FULLY QUALIFIED,INSURED & UK LEGALLY GCC REGISTERED CHIROPRACTOR.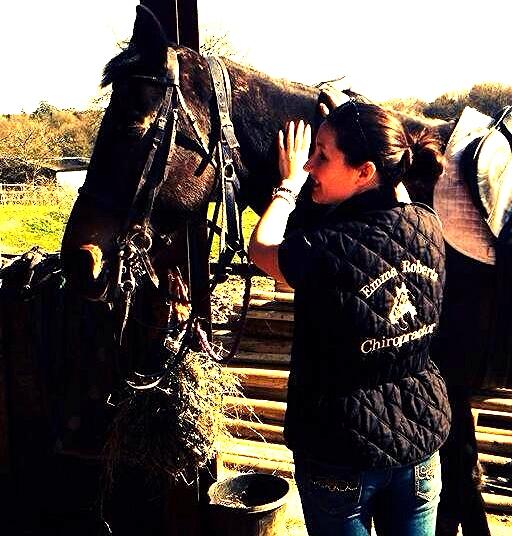 Mobile Phone/Text: 07770 933086
#equinefysio
Twitter @emmaroberts70
Emma has undergone both a Human training over 5.5 yrs to both diploma & BSc level and a 2yr Animal training and she is recognised by most Medical Insurance Companies. Emma is primarily a McTimoney & Corley Chiropractor for both people, dogs and horses.
Emma also provides extremely gentle and effective Visceral & Craniosacral manipulation, Laser,Thermal Imaging Thermography, Ultrasound, H Wave, Pulsed Electromagnetic therapy, Myofascial Therapy, TTouch, chakra Healing Techniques for animals suffering from Muscular & Joint Pain. She also uses Reiki Animal Healing techniques for horses with a history of injuring people.
After the session your horse may benefit from resting if he has recently been injured in order to speed up the rate of healing. Emma offers tailormade rehabilitative exercise programmes with online video support.
Emma will ask lots of questions in order to understand what is demanded of your horse in its work and what your horse will be expected to do in the future. She will aim to help you achieve your goals whilst working alongside your Vet. Emma has developed an excellent eye for mild lameness, or as can be the case lameness on all four legs even. Emma is experienced in palpation and reflex testing and can run her hands over your horses back, neck, jaw and legs very quickly in order to pinpoint areas of numbness, pain and muscle spasm, muscle wastage, atrophy or weakness. This comes from experience gained since she worked as an Equine Sports massage therapist, groom and Veterinary Nurse in the late 1980's prior to training as a Chiropractor in the early 1990's. She began by working within Veterinary Practices so is not afraid to talk to your Vet and Insurers at great length via telephone, email, Skype or in person and will always refer your horse back to a Veterinary Surgeon if she feels your horse would benefit from seeing a Vet who might recommend for example:- remedial farriery, hock injections, kissing spine diagnostic screening or x ray imaging.
Emma will often suggest she treats the rider as well as the horse. Asymmetry in the horse can be linked to asymmetry in the rider and achieving true straightness will benefit both horse and rider by ultimately making riding a more comfortable and enjoyable experience for you both.